All-Natural Cleaning Products
We provide All-Natural cleaning products that our employees use for several reasons: for the safety of our team members. Specifically developed by our owners, our entire line of all-natural cleaning products are made in-house. Our products work better than commercial cleaning products; they are non-carcinogenic; and are Eco-friendly for the safety of our clients, employees, and environment. Please be aware that we do still use traditional cleaners when the particular job needs them, or should the client request a certain product to be used in their home, we will absolutely make that accomodation.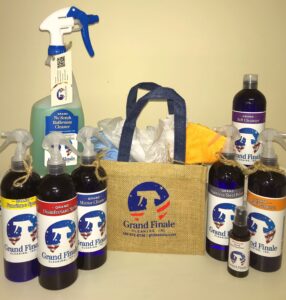 Some essential oils we use are Lavender, Melaleuca, Siberian Fir, Cinnamon, Wild Orange, Clove, and Eucalyptus combined with various all natural cleaning agents proven to prevent & kill virus causing bacteria.
Our products not only work better than any we have tried but they leave your home or office sparkling clean and smelling wonderful!
How are the ingredients picked?
First we analyze the power of the essential oils unique cleaning abilities.
Next we determine if the ingredients are safe to use around children as well as pets before we implement them in our products.
Finally we test and deduce which products will ultimately leave our clients with the best cleaning experience before implementing them in our client's homes.
We provide our own cleaning products made in house with all natural ingredients. It is our company's goal to provide the ultimate cleaning experience for our customers, and part of that process is our Grand Cleaning Products. These products are made to leave a long lasting freshness to your home while also utilizing all natural cleaning agents that will remove dirt, grime, soap scum, & dust with long lasting effects.
You are going to love it!
Looking for a cleaning company that will get the job done the exact way you want it? Look no further than Grand Finale Cleaning!
Do you love our products as much as we do? To purchase these incredible cleaning products, give us a call at 502-222-0736. Stay Tuned for More All-Natural Products!